Todo lo que tenga que ver con la princesa Diana causa revuelo y fascinación. Y hace unos días, el palacio de Kensigton dio a conocer una fotografía de la fallecida Lady Di acompañada de sus entonces pequeños hijos.
En la imagen podemos ver a un príncipe William, de 11 años, con una sonrisa de oreja a oreja al lado de su querida madre, así como a Harry con un actitud un poco más tímida y sentado en el regazo de Diana, quien viste un pantalón azul con un cinturón de hebilla dorada y una blusa blanca.
El motivo de esta dulce foto fue para celebrar que el duque de Cambridge se convirtió el pasado 13 de febrero en el patrón de la organización The Passage.
Según lo escrito por el palacio, William visitó junto a la princesa Diana y el príncipe Harry este lugar en 1993, el cual se encarga de proveer servicios para satisfacer las necesidades de las personas sin hogar.
Además, en dicha publicación también se agregó una foto de las firmas de Diana y William en el libro de visitas de la organización de ese día.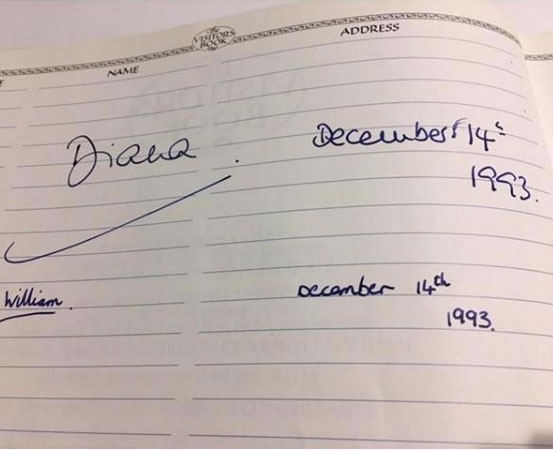 El príncipe William ya ha visitado The Passage múltiples veces en los últimos 25 años, pero fue hasta este año que fue nombrado patrón de la institución para continuar apoyando a quien lo necesita y continuar con el legado de su madre.
El palacio de Kensington también mostró que en el día de su nombramiento y durante su visita a la asociación, William ayudó en la cocina a servir los alimentos que beneficiarios consumieron ese día. El duque de Cambridge también conoció a algunas de las personas que conforman el programa Home for Good, el cual busca ayudar a que personas sin hogar se restablezcan en la vida de su comunidad.
Muchos sabemos que la princesa Diana, recordada por su generosidad y conexión con el pueblo, inculcó a sus hijos siempre brindar su apoyo a quien lo requiere, razón por la cual muchos consideran que este patronato resulta de lo más significativo para el príncipe William.
Al día de hoy, tanto él como Harry y sus respectivas esposas continúan con una gran labor social y en apoyo a los más necesitados a través de diversas organizaciones de diferentes rubros.
Por: Redacción Vanidades / Foto: Archivo